Hunting Boards
Read this article in the following language(s):
Bounty Quests
Hunting Boards can be found in the Eden Group building on the first floor, along the back wall to the right of the front desk.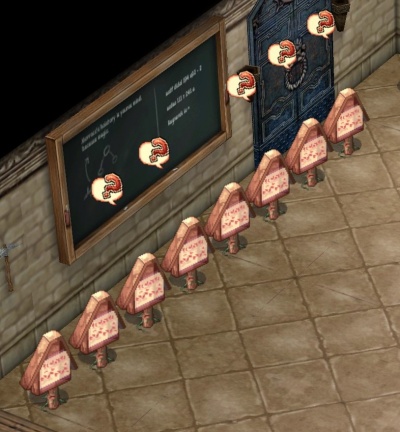 For killing 100 of a monster, you gain extra experience equal to 50 kills (50%) of that monster. There are a lot of monsters available, and you can accept all quests at once, and turn them all in at once.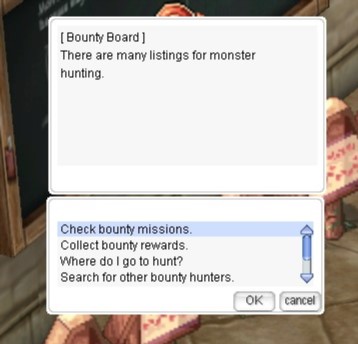 Prontera
Min Level
Max Level
Monster
Base EXP
Job EXP
1
50
Lunatic
1,500
500
Hornet
4,750
3,750
Roda Frog
1,500
1,250
Rocker
5,000
4,000
Savage Babe
3,500
3,000
Thief Bug Egg
2,000
1,000
Ambernite
14,250
9,500
Thief Bug
4,250
1,250
Tarou
14,250
7,000
Stainer
26,250
17,500
Peco Peco
39,750
18,000
Coco
30,000
19,500
Yoyo
70,000
27,750
Thief Bug Female
8,750
4,500
Thief Bug Male
55,750
23,250
Poporing
20,250
11,000
Elder Willow
40,750
25,250
Muka
68,250
30,000
Min Level
Max Level
Monster
Base EXP
Job EXP
25
80
Magnolia
98,250
62,000
Argos
97,000
47,000
Beetle King
169,750
110,500
Savage
130,250
62,000
Driller
803,750
465,000
Hunter Fly
379,250
238,000
Mantis
98,250
62,000
Side Winder
499,000
248,250
Payon
Min Level
Max Level
Monster
Base EXP
Job EXP
10
99
Willow
1,250
1,000
Spore
16,500
27,000
Boa
18,000
12,000
Big Foot
77,500
47,000
Horn
33,500
21,500
Skeleton
4,500
3,500
Soldier Skeleton
93,000
56,500
Greatest General
309,500
188,000
Wolf
82,250
49,750
Archer Skeleton
120,750
70,750
Munak
150,250
79,500
Bongun
106,000
60,500
Sohee
184,750
113,750
Dokebi
222,250
113,750
Nine-Tail
703,000
206,250
Comodo
Min Level
Max Level
Monster
Base EXP
Job EXP
40
99
Thara Frog
54,750
34,500
Sea Otter
762,000
410,500
Seal
941,250
456,000
Raggler
54,500
35,000
Grove
600,000
512,500
Alligator
344,750
216,500
Flora
89,250
56,500
Golem
116,250
23,500
Stalactic Golem
1,452,000
673,750
Medusa
1,719,000
1,174,250
Umbala
Yuno
Min Level
Max Level
Monster
Base EXP
Job EXP
60
99
Goat
839,250
503,750
Harpy
890,500
533,250
Sleeper
900,750
536,000
Grand Peco
596,750
340,250
Deleter (Ground)
850,750
516,500
Deleter (Sky)
850,750
516,500
Nightmare Terror
1,670,750
1,089,750
Geffen
Min Level
Max Level
Monster
Base EXP
Job EXP
1
99
Chonchon
1,250
1,000
Roda Frog
1,500
1,250
Mandragora
11,250
8,000
Ambernite
14,250
9,500
Creamy
26,250
17,500
Caramel
66,000
40,500
Coco
30,000
19,500
Horn
33,500
21,500
Poison Spore
46,500
23,250
Smokie
33,500
21,500
Martin
33,500
21,500
Elder Willow
40,750
25,250
Skel Worker
99,250
60,000
Orc Warrior
102,000
40,000
Orc Lady
161,000
101,750
Goblin (Dagger)
77,500
47,000
Goblin Archer
115,250
71,000
Ghoul
272,000
155,500
Jakk
352,000
220,000
Nightmare
478,000
478,000
Min Level
Max Level
Monster
Base EXP
Job EXP
70
99
Deviruchi
665,500
319,500
Marionette
269,500
319,000
Wraith
549,750
274,750
Dark Priest
3,048,000
1,288,000
Gargoyle
412,500
412,500
Flying Petite
439,500
268,750
Ground Petite
419,250
258,500
Evil Druid
722,500
456,750
Wind Ghost
606,000
372,000
Carat
481,500
338,250
Majoruros
2,131,250
949,750
Wanderer
1,446,500
1,182,500
Sting
1,020,250
742,500
Arclouze
215,000
250,000
Raydric
852,500
448,750
Khalitzburg
1,094,500
687,500
Anolian
1,475,000
925,000
False Angel
842,750
487,250
Violy
1,588,250
882,250
Mini Demon
2,099,000
930,500