Titan Tokens
Read this article in the following language(s):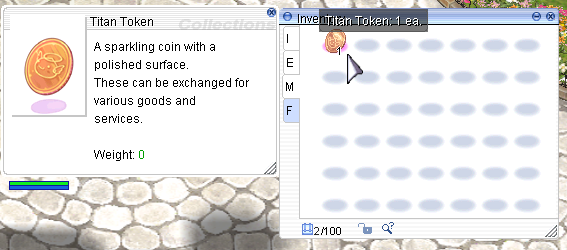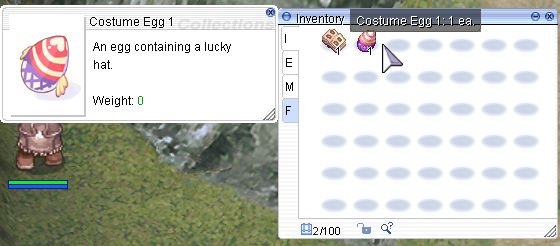 Champion Monsters and MVPs currently drop

Titan Tokens, which are an in-game currency. These Titan Tokens may be vended, traded and put in storage. There is no way to get these tokens by donating. You must either kill the monsters, trade for them, or buy them from a Merchant or Super Novice shop.
10 Titan Tokens can be exchanged for a

Costume Egg, which will give you a random costume headgear. To exchange your Titan Tokens for a Costume Egg, open the

Titan Guide in your inventory, and choose Token Shop. The Costume Egg also has descriptions of the possible headgears you can get.
Costume Egg #5 Contents
Costume Sword of Thanatos
Costume Magic Circle
Costume Tall Ghostring Hat
Costume Elder Devil Horn
Costume Gram Peony
Costume Falling Angel Feathers
Costume Vampire Familiar
Costume Large Ribbon Muffler
Costume Bat Stole
Costume Fallen Angel Valetta
Costume Egg #4 Contents
Costume Baseball Cap
Costume Pegasus Wing Ears
Costume Vanargandr Helm
Costume Black Cat Hoodie
Costume Necromancer Hood
Costume Cat Eyes
Costume Angeling Hat
Costume Blue Beanie
Costume Eremes Scarf
Costume Candy Cane in Mouth
Costume Egg #3 Contents
Costume Shaving Foam
Costume Warm Cat Muffler
Costume Red Under Rimmed Glasses
Costume Robo Eye
Costume Wind Guide
Costume Rune Circlet
Costume Chicken Hat
Costume Dokebi Wig
Costume Heroic Backpack
Costume Test Subject Aura
Costume Egg #2 Contents
Costume Egg #1 Contents

* While these items link to actual headgears with stats, The egg drops costume variants with no stats at all.