Troubleshooting/pt
The English version of this page has changed. Please update this page.
Esta página cobre uma seleção de problemas técnicos comuns que o pessoal tem encontrado. Se você estiver experenciando um problema que não foi falado aqui, você pode receber suporte tanto pelo Seção de suporte do forum, quanto pelo canal #support no Discord do TitanRO
Problemas com o Gepard
Code: 50 Memory integrity test failed!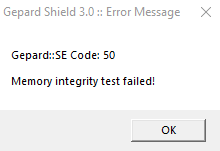 Problema
Este problema é comumente causado por overlays dentro do jogo por aplicativos como Mumble ou plays.tv e pode ocorrer depois de alguns minutos depois de realmente abrir o cliente.
Solução
Desativar todo software que possa estar tentando modificar o cliente (Assim como os overlays do Mumble/plays.tv).