Dancer
Jump to navigation
Jump to search
Dancer
Job Base:
Archer
Job Type:
2-2
Job Bonuses

| | | | | | |
| --- | --- | --- | --- | --- | --- |
| STR | AGI | VIT | INT | DEX | LUK |
| +2 | +7 | +3 | +5 | +5 | +8 |
Overview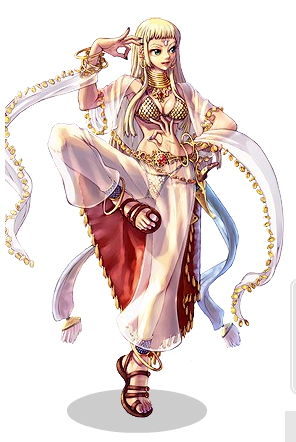 Dancers are the epitome of beauty and grace, and they use these qualities all to their own advantage. They allure allies and enemies alike with their performances. Needless to say they are not damsels in distress when it comes to fighting monsters, they can still hold their own using their previous training as Archers, or use whips altogether to put them in place.
Dancers are considered a support class that have special abilities that allow them to improve their allies abilities or disrupt enemies. They have skills however that would require them to pair up with their male counterpart Bard to execute the so-called ensemble skills. Dancers could use whips, daggers and bows, though most of the dancers skills would require them to wield a whip. When wielding whips however, bow skills cannot be used, bringing both weapons when venturing will be a good measure.
Dancers are still more of a ranged type of class, even when whips require you to be close and personal with your targets, DEX is the main stat for weapon damage (pertaining to both bow and whip). The solo dances are influenced by the skill level, the level of Dance Lessons and the stats of the dancer. Ensemble skills would require both a dancer and a bard to have the skill learned and be in a party. Being a performer in contrast to hunters, Dancers have a larger SP pool, allowing them to use more skills than usual.
Job Change
Requirement: Female Archer who has reached at least job 40 (Job 50 is optional)
Head to the Beach Town of Comodo, and talk to Bor Robin beside the Kafra, he will escort you to the stage where you will be doing the job exam. Head to the left side of the stage to talk to Aile and confirm your decision to become a Dancer. She will ask you to bring one of the following sets of items to start off your first part of the test (she will not actually take these items).
Set 1 : 1

Sandals,20

Jellopy,5

Yellow Potion,2

Clam Shell, and 10,000 zeny
Set 2: 1

Shoes, 20

Sticky Mucus,3

Jellopy,5

Red Potion
Set 3: 1

Boots, 5

Earthworm Peeling, 10,000 zeny

After bringing these items she will ask you to talk to Bijou on the opposite side of the stage to take the quiz, you must get at least 8/10 to pass the test. There are 3 possible sets of questions for this part of the test.
Set A

What is the effect of the skill Dance Lesson? Increases the effect of dancing skills. -or- Increase damage of Whip weapons.
What dance uses shoes that are designed to make sound as the dancer rolls their feet and taps the ground to create a rhythm? Tap Dance
Which of the following is not a characteristic of a Dancer? Uses Two-handed Swords
Which town has the most Dancers? Comodo
Of the following, who dances most beautifully? Bijou
What is the Dancer better at than the other job classes? Dancing
Who is the manager of the Comodo Casino? Moo
What item cannot be equipped by a Dancer? Two-handed Sword
Do you think you can say this quiz is frustrating and annoying? any answer will do
Which of the following is not a Jazz musician? Elder Willow

Set B

What is the effect of the combined skill, Mental Sensing? Increases experience
Which is considered bad etiquette on the dance floor after a dance? Criticize your partner
Which is not an appropriate response when someone makes a mistake while you are dancing together? Point out the mistake
In which town can you change jobs to a Dancer? Comodo
How many dungeons are directly connected to Comodo? 3
Which of the following is not a Cute Pet monster? Argiope
Who is the most graceful dancer? Bijou
What is the exact name of the Kafra in Comodo? Western Branch
What is my name? Bijou
What is the effect of Lullaby? Casts the Sleep effect on the area

Set C

The Dancer's dance, Lady Luck, increaces which of the following? Critical Attack Rate
Of the following, which can you not consider to be a dance? Lightning Bolt
Which of the following best describes a Dancer? A person who dances
Which of the following cannot be associated with Comodo? A lot of thieves
What is the name of the region North West of Pharos Lighthouse? Comodo Beach (Actually it's Kokomo beach, but it's not in the options)
Who is the most beautiful dancer? Bijou
Of the following, who can perform together with a Dancer? Bard
Which of the following is not a specialty of Comodo? Shining Stone
Who is the manager of the Comodo Casino? Moo
Who accepts the Dancer job change applications? Aile
After passing the 2nd part of the exam Bijou will show you to the backstage, make your way to the other side and talk to the Waiting Room NPC, she will direct you to the front stage and you will perform the last part of the exam which is the dance test. This is similar to a dance revo game wherein you will step on the required tiles within a given time period (only a few seconds) and will also ask you to perform a few skills. Failure to do so will send you outside to the town of Comodo. You will have to speak again to Bar Robin to enter the stage and enter as previously done.
The Step pattern is as follows:
Back
Front
Left
Right
Center
Pose (just remain on the tile)
Improve Concentration
Left
Front (Skip this step and go right directly)
Right
Pose (just remain on the tile)
Left, Center, Right, Back
Right
Left, Center, Front, Back
Left, Center, Front, Back
Front
Left
Center
Arrow Shower or Double Strafe
Strategies for this test is to just step on the edges of the tiles, and those with more than one step to do in a given period, you can just do the first and last one to proceed. Once successful talk again to Bijou and she will promote you to a Dancer.
You will be given a

Wire Whip [3] if you are Job 50, if not you will be given a

Rope [4].
Class Data
Skills
Ensemble skills can only be performed when a Bard and Dancer are in the same party and standing beside each other and both of them have learned the specific Ensemble skill. When an Ensemble skill is performed by a Bard and Dancer, the lower level of the Ensemble skill learned by either performer is utilized.
| Skill | Description | Levels | Type |
| --- | --- | --- | --- |
| Service For You | Performs a dance that will boost Max SP, accelerate SP Recovery and reduce SP Cost of all players around the performer. Maintaining this skill active will drain 1 SP every 5 seconds. | 10 | Supportive |
| Fortune's Kiss | Performs a dance that will boost the critical hit rate of all players around the performer. Maintaining this skill active will drain 1 SP every 4 seconds. | 10 | Supportive |
| Forget Me Not | Performs a dance that will drop attack and movement speed of all enemies around the performer and cancel all benefits that improve those stats. Maintaining this skill active will drain 1 SP every 10 seconds. | 10 | Active |
| Humming | Performs a dance that will boost Hit rate of all players around the performer. Maintaining this skill active will drain 1 SP every 5 seconds. | 10 | Supportive |
| Dancing Lesson | Enhances attack (Weapon Mastery) with Whip class weapons and enables movement while dancing. This skill also enhances the effects of the player's dances. | 10 | Passive |
| Scream | Shouts a stunning sentence loudly, which has a chance of leaving enemies stunned due to the shock. This skill may also affect party members. | 5 | Active |
| Adaptation to Circumstances | Stops the currently active performance. This skill cannot be used in the first or last 5 seconds of the duration. | 1 | Active |
| Encore | Replays the last song/dance performed at half of its SP Cost. Replayed performances carry the requirements to be used, like the equipped weapon and the required partner for Ensemble Skills. | 1 | Active |
| Ugly Dance | Performs a dance that will drain SP every 3 seconds of all enemies around the performer. Maintaining this skill active will drain 1 SP every 3 seconds. | 5 | Active |
| Throw Arrow | Slings an arrow at a single target using the equipped Whip. This skill can also be used during a performance without interrupting it. Each cast uses one arrow, the property depends on the arrow equipped. | 5 | Offensive |
| Invulnerable Siegfried | Performs an ensemble that will boost resistance to elemental properties except neutral and Status Effects of all party members around the performers. Maintaining this skill active will drain 1 SP every 3 second | 5 | Ensemble |
| Drum of Battlefield | Performs an ensemble that will boost attack and defense of all party members around the performers. Maintaining this skill active will drain 1 SP every 5 seconds. | 5 | Ensemble |
| Loki's Wail | Performs an ensemble that will block the use of skills to all entities around the performers, with the exception of the skill Longing for Freedom. Maintaining this skill active will drain 1 SP every 4 seconds. | 5 | Ensemble |
| Eternal Chaos | Performs an ensemble that will nullify all defense of all enemies around the performers. Maintaining this skill active will drain 1 SP every 4 seconds. | 5 | Ensemble |
| The Ring of Nibelungen | Performs an ensemble that will add piercing damage on the attack of all players around the performers. Maintaining this skill active will drain 1 SP every 3 seconds. | 5 | Ensemble |
| Into the Abyss | Performs an ensemble that will remove the item requirement of skills used around the performers. Maintaining this skill active will drain 1 SP every 5 seconds. | 5 | Ensemble |
| Lullaby | Performs a dreamy ensemble that may leave all enemies sleeping. The higher the performers' INT is, the higher is the chance of effect. Maintaining this skill active will drain 1 SP every 4 seconds. | 5 | Ensemble |
| Mr. Kim A Rich Man | Performs an ensemble that will increase experience yield of all monsters around the performers. Maintaining this skill active will drain 3 SP every 3 seconds. | 5 | Ensemble |
Builds
PVM General Build
Overview
Recommended Stats and Skill Build
Recommended Equipment
Gameplay
PVP/WOE General Build
Overview
Recommended Stats and Skill Build
Recommended Equipment
Gameplay