Mage
Jump to navigation
Jump to search
Mage
Job Base:
Novice
Job Type:
First
Job Bonuses

| | | | | | |
| --- | --- | --- | --- | --- | --- |
| STR | AGI | VIT | INT | DEX | LUK |
| +0 | +4 | +0 | +8 | +3 | +3 |
Overview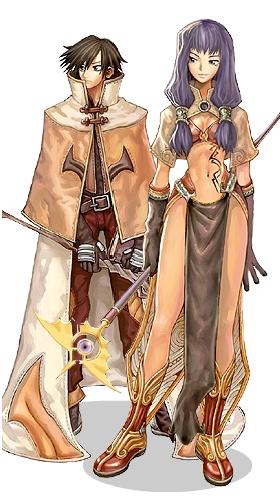 Mages are spell casters, who rely on magic to dispatch enemies quickly. They have the forces of nature at their disposal dealing elemental attribute damage, hence they can take advantage of the weaknesses of targets to deal more damage.
Mages primarily use Rods/Staves that enhance their magic output further, they can also use daggers in times of need. Mage spells are mostly offensive and bear an elemental attribute. So a Mage must know of the elemental weaknesses (or at least not use the element they are resistant to) of their targets to dispose of them quickly, else they would be doing subpar damage. Mages have the lowest HP pool among the classes, and can only use light armor, so their physical defense and HP would usually be one of the lowest, but they can make up for it with their defense spell Energy Coat in expense of consuming more SP.
Mages heavily rely on INT to raise magic attack and partially reduce cast time, DEX will be the secondary stat to invest in which primarily reduces cast time and raises magic attack by a small amount. LUK will also raise magic attack by a small amount but bears a bit more weight than DEX.
A Mage can specialize in harnessing the elemental forces even further as a Wizard, or learn support/defense/magic counter spells as a Sage.
Job Change
Requirement: Novice Job level 10
Head to the northwest building in the City of Geffen (63, 177) and talk to the girl in front of the blackboard, confirm your decision to be a mage and she will ask you to create one of the 4 solutions to pass the test. The ingredients can be checked in the bookshelf on the west corner of the room, (the catalysts will be provided by the mixing machine).
List of the 4 Solutions for the Test:
Solution #1
Requires: 2

Jellopy, 3

Fluff, 1

Milk,

Yellow Gemstone,

Payon Solution
Mixing Code: 8472
Solution #2
Requires: 3

Jellopy, 1

Fluff, 1

Milk,

Red Gemstone (does not need a solution)
Mixing Code: 3735
Solution #3
Requires: 6

Jellopy, 1

Fluff,

Blue Gemstone,

Payon Solution
Mixing Code: 2750
Solution #4
Requires: 2

Jellopy, 3

Fluff,

1 Carat Diamond,

Morroc Solution
Mixing Code: 5429
Milk can be bought at the milk merchant in Prontera (76, 133) for 25z if you have not obtained one while leveling.
Payon Solution is found in the Payon Archer Village (North of Payon Town). The NPC Dollshoi, is located at (118, 100).
Morroc Solution is found in the Pyramids (Northwest Portal from Morroc Town). The NPC Ponka-Hontas can be found at at the oasis which is close to the pyramids entrance (88, 147).
You can proceed to the mixing machine and input the required ingredients and mix them. If you get anything wrong you will have to obtain the ingredients again and repeat the process. Then give the solution to the Mage girl NPC, if you passed then she will finally acknowledge you into the Mage Academy.
Quests
Besides the Platinum Skill Quests, the Mage class also can do a training quest, which gives them Base and Job EXP, zeny, a Wand, and a Silk Robe.
Skill Data
Skills
| Skill | Description | Levels | Type |
| --- | --- | --- | --- |
| Cold Bolt | Calls forth chunks of frigid ice from the skies to strike at a single target, where each chunk will inflict 100% Water property magic damage. | 10 | Offensive |
| Fire Bolt | Calls forth bolts of pure flame from the skies to strike at a single target, where each bolt will inflict 100% Fire property magic damage. | 10 | Offensive |
| Lightning Bolt | Calls forth bolts of lightning from the skies to strike at a single target, where each bolt will inflict 100% Wind property magic damage. | 10 | Offensive |
| Fire Ball | Shoots a fire ball at a single target to inflict Fire property magic damage to all enemies within its area of effect. Enemies at the edge of the area will take 75% of the damage. | 10 | Offensive |
| Fire Wall | Creates a wall of flame on a targeted location that will inflict 50% Fire property magic damage and push enemies two cells backwards upon contact. | 10 | Offensive |
| Frost Diver | Releases a stream of frigid ice at a single target to inflict Water property magic damage. It has a chance of leaving the target frozen. | 10 | Offensive |
| Thunderstorm | Calls forth a storm of lightning from the skies on a targeted location, where each hit will inflict 80% Wind property magic damage to all enemies within its area of effect. | 10 | Offensive |
| Napalm Beat | Strikes at a single target with psychokinetic energy to inflict Ghost property magic damage to all enemies within the area of effect. This damage spreads equally between all affected enemies. | 10 | Offensive |
| Soul Strike | Unleashes light ghosts at a single target, where each ghost will inflict 100% Ghost property magic damage. This skill inflicts additional damage against Undead property entities. | 10 | Offensive |
| Stone Curse | Attempt to petrify a single target. Each cast consumes a Red Gemstone. | 10 | Active |
| Increase SP Recovery | Enables the natural recovery of additional SP every 10 seconds while the character is not moving. This skill also increases the effectiveness of the Healing Items (SP). | 10 | Passive |
| Sight | Summons an orb of fire that orbits around the user temporarily and reveals enemies within its area of effect. | 1 | Active |
| Safety Wall | Creates a pink light pillar on a targeted location that blocks every form of close range physical damage until its durability wears off or expires. Each cast consumes a Blue Gemstone. | 10 | Supportive |
Platinum Skill
| Skill | Description | Type | Quest |
| --- | --- | --- | --- |
| Energy Coat | Coats the caster with spiritual energy to buffer all incoming damage temporarily. The more remaining SP the caster has, the more damage is buffered and the more SP is drained. | Active | Energy Coat Quest |