Soul Linker
Jump to navigation
Jump to search
Soul Linker
Job Base:
Taekwon
Job Type:
Extended
Job Bonuses

| | | | | | |
| --- | --- | --- | --- | --- | --- |
| STR | AGI | VIT | INT | DEX | LUK |
| +0 | +0 | +6 | +12 | +12 | +0 |
Overview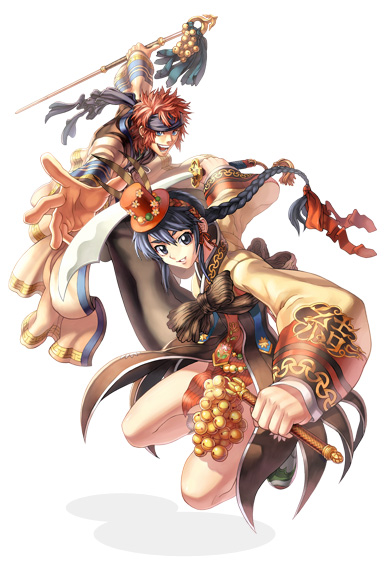 Taekwons who wish to fully connect with the spiritual realm and hone their innate spiritual power will attempt take on the path of the Soul Linker. Soul Linker unlike Taekwons and Taekwon Masters are a full fledged magic class with skills reliant on magic power. Soul Linkers can connect with souls of the old, who would wish to bestow their knowledge on others with their knowledge not known by most users of the same class, empowering classes with skills or buffs to boost their abilities. Soul Linkers can also use these spiritual skills they have learned to buff their allies, fellow linkers, and kill monsters as well.
Soul Linkers will lose the ability to use most of the taekwon skills (Tumbling, Sprint, Peaceful Break, Happy Break, Kihop, Leap and Mild Wind will be left as usable), and will also be using weapons but will not be using kicks for normal attacks. Soul Linkers can use most of what the mage class is able to wield in battle as they are considered as casters. Soul Linker skills are mostly SP consuming so high INT is a priority to keep up with the SP usage of skills.
Soul Linkers are also naturally immune to Dispel
Job Change Guide
Requirement: Job 40 (Job 50 is optional as you cannot use most of the taekwon skills anyway)

Head to Morroc Town and enter the tavern at the northwestern corner of the map (morocc 55, 259)
Talk to the kid in the room inside the tavern, the kid will ask you to bring the following items as part of your initiation into being a Soul Linker
1

3 Carat Diamond
1

Immortal Heart
1

Witherless Rose
She'll continue the conversation after you give her the items and you will be warped into your own mind and talk to the Spirits of Old. Talk to the Monk Spirit, Sage Spirit and Alchemist Spirit, then talk to the girl again. After embracing their requests she will perform the incantation to change you into a Soul Linker.
Class Data
Skills
Soul Linker Skills are classified as follows: Es- spells are all the offensive spells that can only be used on monsters, using it on players will stun the caster. Spirit skills are all the spirit imbued buffs you can only enchant on a specific class, with the exception of Soul Linker Spirit which you cannot cast on yourself. Ka- buffs are all the other supportive skills of souls linker that without the power of the soul linker spirit on the caster can only be used on family members, other soul linkers or yourself.
Spirit Skills
| Skill | Description | Levels | Type |
| --- | --- | --- | --- |
| Priest Spirit | Calls forth the spirit of history's most pious Priest and imbues its abilities upon the targeted Priest temporarily. Increases the damage output of Holy Light to 500%. However its SP Cost is also increased to 500%. | 5 | Supportive |
| Monk Spirit | Calls forth the spirit of history's toughest Monk and imbues its abilities upon the targeted Monk temporarily. Alters Combo Finish to inflict damage to all enemies in a 5x5 area around the target. Reduces the SP Cost of combo skills. Allows SP Recovery while under the effects of Fury and during the 10 seconds of disabled regen after Asura Strike. | 5 | Supportive |
| Wizard Spirit | Calls forth the spirit of history's most powerful Wizard and imbues its abilities upon the targeted Wizard temporarily. Does not remove the gemstone cost from Ganbantein. All other skills have their gem cost completely removed (still requires the player to have the catalyst in their inventory, but the catalyst will not be consumed). Prevents the player from taking damage from reflected magic via Kaite at cost of a Crystal Fragment from the player's inventory. | 5 | Supportive |
| Sage Spirit | Calls forth the spirit of history's greatest Sage and imbues its abilities upon the targeted Sage temporarily. Alters Autocast for it to always cast the highest level of their learned Bolt skills. | 5 | Supportive |
| Taekwon Master Spirit | Calls forth the spirit of history's greatest TaeKwon Master and imbues its abilities upon the targeted TaeKwon Master temporarily. Enables the use of the skill Solar, Lunar and Stellar Union. | 5 | Supportive |
| Soul Linker Spirit | Calls forth the spirit of history's most skilled Soul Linker and imbues its abilities upon the targeted Soul Linker temporarily. Allows the Ka- skills to be used on other players. | 5 | Supportive |
| Hunter Spirit | Calls forth the spirit of history's most popular Hunter and imbues its abilities upon the targeted Hunter temporarily. Increases the effectiveness of Beast Bane based on the target's Strength. Bestows the Beast Charge skill if the target has mastered Double Strafe. | 5 | Supportive |
| Bard and Dancer Spirit | Calls forth the spirit of history's most artistic performer and imbues its abilities upon the targeted Bard or Dancer temporarily. All Performance Skills will affect the target him/herself. Greatly increases Movement Speed while performing. Their skills become linked, meaning that if the target has mastered the given skill, allows the use of the counterpart skill, mastered. They are unaffected by Music Lessons and Dance Lessons, respectively. | 5 | Supportive |
| Assassin Spirit | Calls forth the spirit of history's most mysterious Assassin and imbues its abilities upon the targeted Assassin temporarily. Doubles the damage output of Sonic Blow and halves its Cast Delay. However its SP Cost is also doubled. In War of Emperium, this only increases its damage by 25%. | 5 | Supportive |
| Rogue Spirit | Calls forth the spirit of history's sneakiest Rogue and imbues its abilities upon the targeted Rogue temporarily. Grants immunity to dispelling effects (Dispell and Flying Kick) when the target has Preserve active. Greatly increases the effectiveness of potions brewed by Top 10 Alchemists (Doubled in addition to the "Ranked" bonus). Greatly increases the Movement Speed while in Stealth and extends its STR bonus duration to 5 minutes. | 5 | Supportive |
| Alchemist Spirit | Calls forth the spirit of history's greatest Alchemist and imbues its abilities upon the targeted Alchemist temporarily. Increases the effectiveness of Aid Potion by a percentage equal to the target's Base Level. Bestows the Aid Berserk Potion skill. Bestows the Spiritual Potion Creation skills 1, 2, and 3 if the target has mastered Prepare Potion. | 5 | Supportive |
| Blacksmith Spirit | Calls forth the spirit of history's most proficient Blacksmith and imbues its abilities upon the targeted Blacksmith temporarily. Bestows the Advanced Adrenaline Rush skill if the target has mastered Adrenaline Rush. | 5 | Supportive |
| Knight Spirit | Calls forth the spirit of history's most chivalrous Knight and imbues its abilities upon the targeted Knight temporarily. Bestows the One-Hand Quicken skill if the target has mastered Two Hand Quicken. | 5 | Supportive |
| Crusader Spirit | Calls forth the spirit of history's bravest Crusader and imbues its abilities upon the targeted Crusader temporarily. Doubles the damage output of Shield Boomerang, halves its Cast Delay and allows it to ignore the accuracy check. | 5 | Supportive |
| Transcendent Spirit | Calls forth the spirits of history's most powerful High First Class warriors and imbues their abilities upon the targeted High First Class entity temporarily. If its stats are lower than (Target_BaseLv − 10), then this skill will increase them up to the forementioned value. The increase of each stat will not be higher than 50. This skill is only usable on entities up to Base Level 69. | 5 | Supportive |
| Super Novice Spirit | Calls forth the spirit of history's most awesome Super Novice and imbues its abilities upon the targeted Super Novice temporarily. If the target is above Job Lv70, each link has an 1% chance to erase its death record, in which case the Super Novice Angel will appear and the +10 Stat bonus will appear. There is no need to wait between links to be recast. If the target is above Base Lv90, allows to equip any headgear in the game. If the target is above Base Lv96, allows to equip any Level 4 Dagger, One Handed Sword, Axe, Mace and Staff. Headgears and Weapons made equip-able by this skill will remain equipped, If the link remains active while traveling between maps and even after the link wears off until the target moves to any map or log out. Headgears and Weapons made equip-able by this skill will also remain equip-able even if broken. | 5 | Supportive |
Es-Spells
| Skill | Description | Levels | Type |
| --- | --- | --- | --- |
| Estin | Pushes back a targeted monster 2 cells backwards. Only small monsters will take magic damage from this skill, of which property depends the property of the active level of Mild Wind. When mastered, this skill can be followed up with Esma for 3 seconds. | 7 | Offensive |
| Estun | Attempts to stun a targeted monster for 2 seconds. Only medium monsters will take magic damage from this skill, of which property depends the property of the active level of Mild Wind. When mastered, this skill can be followed up with Esma for 3 seconds. | 7 | Offensive |
| Esma | Releases blasts of spiritual energy upon a targeted monster, where each blast will inflict magic damage, of which property depends the property of the active level of Mild Wind. This skill can only be used within 3 seconds after having cast Estin, Estun or Eske. | 10 | Offensive |
| Eska | Forces a targeted monster into a status similar to Monk's Mental Strength temporarily, in which Defense and Magic Defense are altered, but Movement Speed and Attack Speed are reduced. | 3 | Offensive |
| Eske | Increases a targeted monster's Attack power by 300% at cost of halving its Defense. This skill can be followed up with Esma for 3 seconds. | 3 | Offensive |
| Eswoo | Shrinks a targeted monster temporarily to reduce its Movement Speed. If this skill is cast on a monster that is already shrunk, the caster will be stunned and the target will regain its status more quickly. | 3 | Offensive |
Ka-Buffs
| Skill | Description | Levels | Type |
| --- | --- | --- | --- |
| Kaite | Coats a single target with spiritual energy that reflects incoming magic damage back at the original caster. However it also increases physical damage taken by 400%. Reflected healing will not heal the original caster. Spells from monsters above Lv80 or Bosses cannot be reflected. However spells from players can still be reflected regardless of their Base Level. This skill does not stack with Assumptio skill, but works with Kyrie Eleison and Kaupe. | 7 | Supportive |
| Kaupe | Casts a spirit on a single target that will allow him/her to dodge any attack once.This skill has priority over Tumbling. If a skill hits multiple times (example: Bowling Bash, Storm Gust, etc), only the first hit will be dodged. | 3 | Supportive |
| Kaahi | Coats a single target with spiritual energy that restores HP each time an enemy uses a regular attack, whether or not it misses, at cost of some of the target's SP.This skill does not trigger if the target's HP is at 100%. This skill is triggered before the attack inflicts damage. The healing effects of this skill are not visible to other players. | 7 | Supportive |
| Kaizel | Casts a spirit on a single target that will instantly resurrect him/her once and grants Kyrie Eleison for 3 seconds upon revival. | 7 | Supportive |
| Kaina | Enhances Max SP and the efficiency of the Happy Break skill. This skill also reduces the SP Cost of the Estin, Estun and Esma skills depending on base level and skill level. | 7 | Passive |
Builds