Troubleshooting
Jump to navigation
Jump to search
Read this article in the following language(s):
This page covers a selection of common technical issues people have encountered. If you are experiencing an issue not covered here, you can get support from either the support section of the forums or the #support channel in the TitanRO discord
Gepard Issues
Code: 50 or 30 Memory integrity test failed!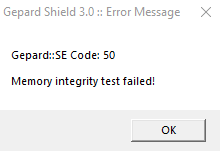 Problem
This issue is commonly cause by in-game overlays from applications such as Mumble or plays.tv and can occur a few minutes after actually opening the client.
Other applications that can cause this error include:
MSI Nahimic
Razer Kraken and ManOWar headsets
Sonic Studio 2 (ASUS machines)
Steel Series headsets
Solution
Disable any software which could be attempting to modify the client (Such as the overlays for Mumble/plays.tv).
Error Gepard::IF
If you get this error, it means your mouse or keyboard is not being detected.
Gepard Loader Fills Up, But Client Doesn't Load
Problem
This usually means that your graphics settings aren't working.
Solution
Open your OpenSetup.exe in the TitanRO folder and choose Direct3D HAL.
Macro Tool Detected
Disable any AHK / macro tools that are in use on your computer to fix this issue.