Champion Monsters
Jump to navigation
Jump to search
Read this article in the following language(s):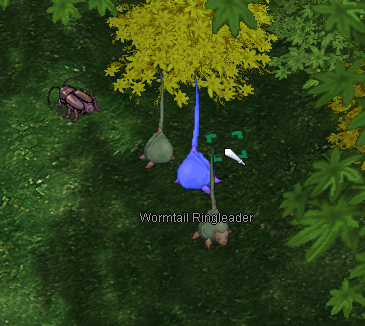 TitanRO has Champion Monster spawns on certain maps. These are tougher versions of the normal monsters and offer more experience. Each Champion Monster has a specific attribute. [1] Also, Champion Monsters drop Titan Tokens.
All attributes:
2.5x Base Exp
9x Job Exp
5x HP
1.5x to 2x Damage
Each attribute means the following:
Swift: +25% move speed
Solid: 10x HP instead of 5x, -20% move speed
Ringleader: Summons 2 copies of its normal monster
Furious: Faster ASPD
Elusive: No special modifications
List of Champion Monsters
Note: This list aims to be as up to date with what's in-game as possible. Let us know if there are any issues!
| Map Name | Monster Name |
| --- | --- |
| gl_prison | Solid Zombie Prisoner |
| pay_dun00 | Furious Zombie |
| prt_fild03 | Swift Yoyo |
| ayo_fild02 | Solid Yoyo |
| pay_fild06 | Wormtail Ringleader |
| um_fild02 | Furious Wootan Fighter |
| moc_fild03 | Swift Wolf |
| pay_fild01 | Willow Ringleader |
| um_fild04 | Furious Wild Rose |
| gon_dun03 | Elusive Evil Nymph |
| gl_sew01 | Solid Whisper |
| treasure_n2 | Weak Skeleton Ringleader |
| gl_cas02 | Furious Wanderer |
| iz_dun01 | Solid Vadon |
| prt_sewb4 | Solid Thief Bug |
| prt_sewb3 | Thief Bug Ringleader |
| prt_sewb2 | Furious Thief Bug |
| beach_dun3 | Elusive Thara Frog |
| ayo_dun02 | Furious Tamruan |
| gl_sew03 | Elusive Sting |
| moc_fild13 | Solid Steel Chonchon |
| beach_dun2 | Furious Stalactic Golem |
| prt_fild02 | Elusive Stainer |
| treasure_n1 | Swift Spore |
| tur_dun02 | Solid Solider |
| pay_dun02 | Soldier Skeleton Ringleader |
| pay_dun01 | Furious Soldier Skeleton |
| pay_dun03 | Swift Sohee |
| pay_fild02 | Boa Ringleader |
| ayo_fild01 | Furious Smokie |
| yuno_fild02 | Swift Sleeper |
| mjolnir_03 | Side Winder Ringleader |
| ama_dun03 | Furious Shinobi |
| cmd_fild04 | Sea Otter Ringleader |
| moc_fild18 | Elusive Scorpion |
| mjolnir_09 | Swift Savage Babe |
| prt_maze01 | Solid Savage |
| mjolnir_07 | Savage Ringleader |
| moc_fild16 | Furious Sandman |
| treasure01 | Swift Sailor Skeleton |
| prt_fild00 | Roda Frog Ringleader |
| gef_fild01 | Furious Roda Frog |
| prt_fild07 | Elusive Rocker |
| c_tower1 | Solid Rideword |
| gon_fild01 | Dumpling Child Ringleader |
| in_sphinx2 | Solid Requiem |
| gl_knt02 | Swift Raydric |
| gl_knt01 | Solid Raydric |
| cmd_fild07 | Elusive Raggler |
| gef_fild07 | Swift Poring |
| prt_maze03 | Poporing Ringleader |
| prt_maze02 | Furious Poporing |
| pay_fild04 | Elusive Poporing |
| ama_dun02 | Swift Poison Toad |
| mjolnir_06 | Solid Poison Spore |
| iz_dun00 | Furious Plankton |
| moc_fild12 | Furious Picky |
| iz_dun03 | Elusive Phen |
| gef_fild08 | Swift Petite |
| gef_fild06 | Solid Petite |
| treasure02 | Penomena Ringleader |
| moc_fild02 | Elusive Peco Peco |
| in_sphinx5 | Swift Pasana |
| um_fild03 | Solid Parasite |
| gef_fild10 | Furious Orc Warrior |
| orcsdun01 | Elusive Orc Zombie |
| orcsdun02 | Swift Orc Skeleton |
| gef_fild03 | Solid Orc Lady |
| mag_dun02 | Furious Nightmare Terror |
| gl_chyard_ | Elusive Wraith Dead (Nightmare) |
| gl_cas02_ | Furious Wanderer (Nightmare) |
| xmas_dun02 | Furious Myst Case |
| moc_pryd03 | Swift Mummy |
| moc_pryd02 | Solid Mummy |
| moc_fild01 | Muka Ringleader |
| ama_dun01 | Miyabi Doll Ringleader |
| moc_prydn1 | Furious Minorous |
| moc_pryd05 | Elusive Minorous |
| in_sphinx4 | Swift Minorous |
| moc_prydn2 | Furious Mimic |
| moc_pryd06 | Elusive Mimic |
| cmd_fild09 | Swift Metaller |
| iz_dun04 | Furious Merman |
| beach_dun | Swift Medusa |
| xmas_fild01 | Furious Marin |
| in_sphinx3 | Elusive Marduk |
| prt_maze03 | Swift Mantis |
| gef_fild04 | Solid Mandragora |
| gl_dun02 | Furious Majoruros |
| prt_fild09 | Elusive Magnolia |
| prt_fild08 | Solid Lunatic |
| prt_fild01 | Lunatic Ringleader |
| niflheim | Furious Lude |
| nif_fild02 | Swift Loli Ruri |
| gon_dun02 | Solid Enchanted Peach Tree |
| new_1-3 | Baby Poring Ringleader |
| lou_dun01 | Elusive Jing Guai |
| ayo_dun01 | Leaf Cat Ringleader |
| mjolnir_08 | Furious Beetle King |
| ama_fild01 | Swift Karakasa |
| moc_pryd04 | Solid Isis |
| gl_prison1 | Furious Injustice |
| lou_fild01 | Elusive Mi Gao |
| lou_dun02 | Yao Jun Ringleader |
| gef_dun00 | Furious Hunter Fly |
| prt_fild05 | Elusive Hornet |
| pay_fild09 | Solid Horn |
| moc_fild17 | Furious Hode |
| yuno_fild04 | Harpy Ringleader |
| yuno_fild03 | Furious Harpy |
| cmd_fild01 | Elusive Grove |
| pay_fild10 | Swift Greatest General |
| cmd_fild06 | Furious Golem |
| prt_fild11 | Elusive Goblin |
| gef_fild11 | Swift Goblin |
| gef_dun01 | Elusive Ghoul |
| yuno_fild01 | Solid Geographer |
| glast_01 | Gargoyle Ringleader |
| gl_sew02 | Furious Gargoyle |
| cmd_fild02 | Swift Seal |
| tur_dun05 | Solid Freezer |
| tur_dun03 | Freezer Ringleader |
| prt_sewb1 | Elusive Familiar |
| prt_fild06 | Solid Fabre |
| pay_fild03 | Fabre Ringleader |
| mag_dun01 | Furious Explosion |
| gl_church | Elusive Evil Druid |
| prt_fild10 | Swift Elder Willow |
| mjolnir_02 | Solid Elder Willow |
| mjolnir_12 | Furious Dustiness |
| um_fild01 | Swift Dryad |
| moc_fild07 | Drops Ringleader |
| mjolnir_04 | Furious Driller |
| in_sphinx1 | Elusive Drainliar |
| tur_dun01 | Swift Dragon Tail |
| pay_dun04 | Furious Dokebi |
| nif_fild01 | Elusive Disguise |
| moc_fild11 | Furious Baby Desert Wolf |
| cmd_fild08 | Elusive Deniro |
| gl_chyard | Furious Dark Priest |
| lou_dun03 | Elusive Zhu Po Long |
| gef_fild05 | Swift Creamy |
| iz_dun02 | Solid Cornutus |
| xmas_dun01 | Cookie Ringleader |
| gef_fild09 | Swift Coco |
| gef_fild02 | Solid Coco |
| c_tower4 | Clock Ringleader |
| c_tower2 | Furious Clock |
| gef_fild00 | Elusive Chonchon |
| gl_cas01 | Elusive Carat |
| mjolnir_01 | Swift Caramel |
| gon_dun01 | Swift Bloody Butterfly |
| pay_fild07 | Bigfoot Ringleader |
| tur_dun04 | Assaulter Ringleader |
| mjolnir_10 | Furious Argos |
| mjolnir_11 | Elusive Argiope |
| mjolnir_05 | Swift Argiope |
| gl_sew04 | Furious Anolian |
| anthell02 | Solid Andre |
| prt_fild04 | Elusive Ambernite |
| cmd_fild03 | Solid Alligator |
| c_tower3 | Elusive Alarm |
| gl_step | Solid Wind Ghost |
| mjo_dun01 | Tarou Ringleader |
| mjo_dun03 | Elusive Skeleton Worker |
| alde_dun03 | Furious Penomena |
| mjo_dun02 | Solid Martin |
| gl_in01 | Marionette Ringleader |
| alde_dun02 | Solid High Orc |
| gef_dun02 | Solid Deviruchi |
| alde_dun04 | Furious Bathory |
| gl_dun01 | Solid Arclouze |
| alde_dun01 | Arclouze Ringleader |
References